Home » Image Challenge » A New Hoax
[Suggest a different challenge]

A New Hoax
(This challenge is now closed)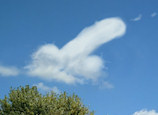 We've all seen Shark vs Helicopter (with bridge) and know it isn't real, so it's about time there were some new hoax photos on the web. Fire up Photoshop and create some new images to fool, fox and deceive the world.
( , Wed 11 Apr 2012, 23:10)

Ancient Astronauts, my Aunt Fanny
Click to embiggenate.
Sorry, I'm a bit late with this one.
( , Thu 19 Apr 2012, 4:31,
More
)

Oh noes.. we are being invaded by tiny alien robots...
Does anyone remember Amoebaboy's robot?
Click for a whole 15 seconds of pink robot mayhem (better in HD mode)
( , Wed 18 Apr 2012, 22:47,
More
)

Great Scott!
Quick and dirty. Like my Dad.
( , Wed 18 Apr 2012, 22:32,
More
)