Home » Image Challenge » Sheds
[Suggest a different challenge]

Sheds
(This challenge is now closed)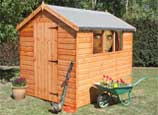 Let's all photoshop sheds. Sheds in the Olympics. Sheds manning machine gun posts in the trenches of the Great War. Sheds sweeping in majestic herds across the horizon, sheds on pogo sticks and sheds taking tents up the wrong'un. Challenge suggested by boris the spider.
( , Wed 18 Jul 2012, 21:11)

Too sexy
( , Wed 25 Jul 2012, 18:25,
More
)

Ah yes that was he...
Did it get unpleasant or something? When last I looked in it all seemed pretty good-natured.
Anyhow - have this Q&D
( , Wed 25 Jul 2012, 17:14,
More
)

nicely
( , Wed 25 Jul 2012, 17:01,
More
)

Late entry
take ur pick
( , Wed 25 Jul 2012, 16:43,
More
)

No trainerz
( , Tue 24 Jul 2012, 19:02,
More
)

Shed Trek
( , Tue 24 Jul 2012, 16:15,
More
)

shedoku
( , Tue 24 Jul 2012, 11:12,
More
)

( , Tue 24 Jul 2012, 8:34,
More
)