Tom Reynolds - Random Acts of Reality
Tom Reynolds has been blogging his working day in the London ambulance services for oooh, ages now. We once wrote, "Publishers: sign up this guy to write a book, really - you'd have a surprise hit on your hands." Turns out we were right, Tom has been snapped up and has hardly been out of the top ten ever since.

Maddox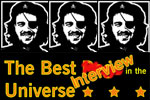 Maddox has been rocking the web since '97 with his unique brand of arrogance and cynicism. He's recently broken out of the web ghetto to produce a book and enter the best sellers lists, so we thought it was high time to catch up and ask him the completely irrelevant questions that a proper publication wouldn't bother with.