Profile for Aardvark:
Profile Info:
Want to greet me on /talk? Use
The Official Aardvark Greeting Generator
.
Thanks a million to the insanely talented and handsome Gilgamesh for that. I don't know how I ever got on without it.
THE GALLERY OF AARDVARKS
Scott drew this for me. I'm dead chuffed with it. Little was I to know when he drew it that it would be the first of many. It still holds a special place in my heart though.
This very happy-looking Aardvark comes from the delightful Spangolin. She is a talented person indeed! Many, many thanks go to her for her fine contribution.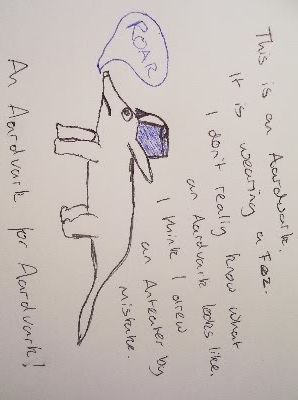 This Aardvark was drawn for me by Woking Girl. She earns eternal respect and gratitude for it.
This Aardvark was drawn by Malaka * * *. He is a fine human being and worthy of wonderful karma for the rest of his life.
This Aardvark having a lovely birthday also comes from the Malaka * * * collection, drawn for my 3rd b3taday. Note the use of vibrant colours and childish scribblings, typical of the period.
I can't resist pictures drawn for me, and this one comes from the lovely Moohalaa. He certainly has a unique style, but the effort that went into the picture is plain to see. Mad props and shizzle and whatever the kids say these days go to him.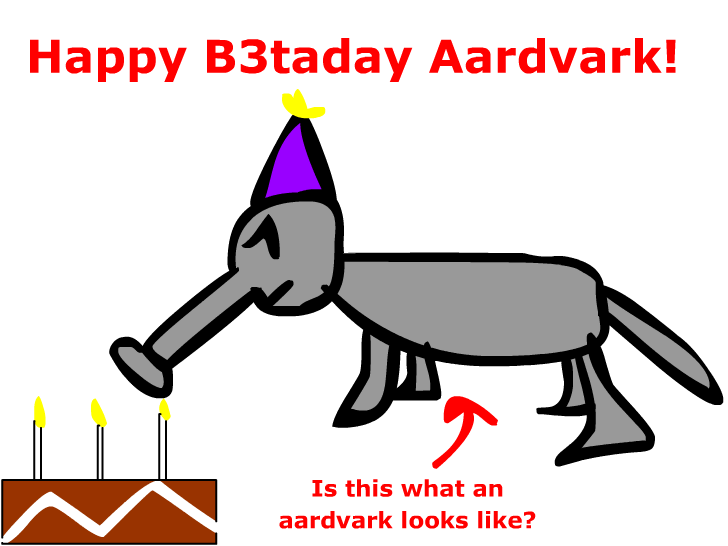 Yet another aardvark birthday, this time from BruceTaylor. He's a smashing chap for this. I must try to remember his b3taday and draw something for it.
This Aardvark was drawn by the delectable WebWench. Despite her protests of modesty, it's a smashing picture. I love it.
This aardvark comes from King Baby Duck. He's really caught the essence of an aardvark here. I'm very pleased with it.
This aardvark is the creation of broadsword. The stylised warping of the aardvark's form obviously reflects his own internal warpings, at least in regard to aardvarks. As with all the others I've received, I love it.
Dobsky drew this strange aardvark. Of course it's fantastic, but I wonder how this depiction conveys his feelings about aardvarks. Perhaps the mammaries are meant to have some deeper symbolic meaning? Maybe we shall never know.
This aardvark is the work of Wildheart Baby. It's small, but wonderfully formed. I treasure it just as much as any other aardvark in my collection.
Lord Gnome was the creator of this fine aardvark. The cartoony style really captures the essence as well as the humour of an aardvark. It's wonderful.
This fantastic aardvark is the work of Todd the Groincrusher. It's quite sublime in its stylings. Her artistic talent really does justice to the wonderful animal that is the aardvark. And it's got a fez on! Just looking at it fills me with glee.
MooCow Byter made this tiny but lovely aardvark. You can only see it if you look closely enough, but it's worth doing. Isn't it precious?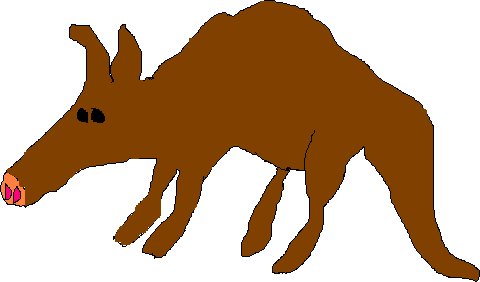 This tremendous aardvark is the work of Spider Riviera (formerly Strider of Eire). They say the eyes are the windows of the soul, and this aardvark is certainly hiding something in its soul. It's a chilling depiction, and earns a proud place in this artistic collection.
This aardvark was drawn by the wonderful Cowfoot. It's a study in monochrome reductivism, or something. It also overemploys the letter A, to tremendous effect. I bloody love it.
JackAction fashioned this aardvark out of love and crayon. He's a talented young man. It's certainly a welcome addition to the gallery.
Not content with the already fantastic addition she made to this gallery, Bob Todd went ahead and drew another aardvark for my birthday! Isn't it delightful? It's kind of creepy, but in a wonderful way.
Dangermouse [AKA Webclam] screamed my name in .wav format :
Here it is.
You may Gaz me if you need an e-mail address to contact me. I do have one. I can't envision any reason why you might though.
I don't do /board, I am an exclusive /talk inhabitant. This is not because I can't draw. Not at all.
If you're on that Xbox Live thingy, you can be my friend by registering me. I am on there as MrAardvark. Don't forget to let me know who you are though.
A poem I wrote for my 5000
th
post:
When you've not been on /talk for long
The banter's strange, the jokes are wrong.
But when you've hung around a while
You find you start to like the style.
You strikethrough posts to make a joke
Implying someone paid a bloke
To fuck them for 11p,
And tell folks what you had for tea.
Before you know it you're sucked in
And words like "mimsy" make you grin
And that's when there's no hope for you
You are a /talker, through and through.
Recent front page messages:


none

Best answers to questions:





read all their answers]