Home » Image Challenge » Stop Motion Animation
[Suggest a different challenge]

Stop Motion Animation
(This challenge is now closed)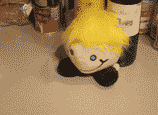 "Have we ever had a stop motion challenge?", asked Monkeon. "Stop motion animation is lovely". No we haven't. So break out the wobbly tripods and get creating. For that is this week's task.
( , Wed 6 Feb 2013, 23:39)

last minute entry
turns out tis a bit harder than it looks...
*shames* :D
( , Wed 13 Feb 2013, 22:02,
More
)

KNOBZILLA KING OF THE GENITALS!
It's an animated gif but my mighty offering is too humongous to be hosted on teh b3ta so I've had to use Arsebucket:

( , Wed 13 Feb 2013, 20:02,
More
)

Dancing. Really dancing. My shapes are thrown.
( , Wed 13 Feb 2013, 13:14,
More
)