Profile for King_Weird:
a member for 18 years, 10 months and 25 days
has posted 62 messages on the main board
has posted 0 messages on the talk board
has posted 0 messages on the links board
has posted 0 stories and 0 replies on question of the week
They liked 2 pictures, 0 links, 0 talk posts, and 0 qotw answers.
Profile Info: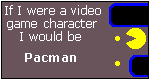 I am Pacman.


I am an aggressive sort of personality, out to get what I can, when I can. I prefer to avoid confrontation, but sometimes when it's called for, I can be a powerful character. I tend to be afflicted with munchies constantly. What Video Game Character Are You?

Recent front page messages:
none
Best answers to questions:
none