Profile for Wasp Box:
a member for 17 years, 11 months and 29 days
it's my b3ta birthday in 1 day
has posted 40376 messages on the main board
(of which 4 have appeared on the front page)
has posted 33 messages on the talk board
has posted 32 messages on the links board
(including 1 links)
has posted 7 stories and 8 replies on question of the week
They liked 2146 pictures, 20 links, 0 talk posts, and 29 qotw answers. [RSS feed]
Profile Info:
I am Wasp Box, some people call me Waspy.
My username illustrated by
Shazzoir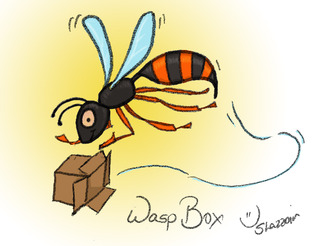 by the inimitable Smallbrainfield
Zombie Waspy by Happy Toast
A lovely picture by Ironman Testuo
featuring, clockwise from top left, DtH, Thor, Mugatu, me, Freebies, and 4dam
The Cherie Gallery
Download a PDF of the Mrs Blair calendar (NSFW)
And some press about the calendar:
Badge courtesy of
PacheyPie
Furthermore, a special club award...
Sample BBC newsmash




click for the gallery
According to a colleague,
I look like this
My user name by
Bilbobarneybobs
Spunkasaurus
I have made a lot of owl hats, so I decided to display them:
My Monkey Beer Gallery
The origin of Monkey beer is here
It may not be surprising that I won this round of the hedgehog can never be buggered at all's "what's in the box" contest
A selection of my stuff
Dogman
The rest of the Dogman series is here
Mr Chesterton
more Mr C
Milestone


bigger
a while ago I passed the 1000 post mark, and marked that mark like this
This is Clive
more clive
I finally shopped a kitten
My username mashed by not_real
Recent front page messages:
Best answers to questions: