Profile for Scaryduck:
a member for 21 years, 6 months and 0 days
has posted 2518 messages on the main board
(of which 5 have appeared on the front page)
has posted 172 messages on the talk board
has posted 305 messages on the links board
(including 156 links)
has posted 570 stories and 615 replies on question of the week
They liked 617 pictures, 145 links, 1 talk posts, and 1458 qotw answers.
Profile Info:
Buy my book!
Tales of Mirth and Woe
- with an introduction by Neil Gaiman
The Blurb
: From the Guardian Award-winning and insanely popular website
"Scaryduck: Not Scary. Not a Duck"
, we bring you a 100 per cent truthful and hilarious account of the interesting and varied life of Alistair Coleman: Genius, gentleman explorer, French cabaret chantoose and small bets placed.
"Made my lunch come out of my nose like a dead pharoah's brains" - Nelson Mandela
"A riddle wrapped up in a mystery inside an enigma, stuffed up a dog's bottom" - Winston Spencer Churchill
"Better than Jeffrey Archer" - The Guardian
"The best blog in the Universe, or something" - Lenny Henry
"The funniest man on Earth" - Somebody EXCELLENT
"You make me sick" - Anonymous of Texas
"I am not Belle de Jour. Honest." - S. Duck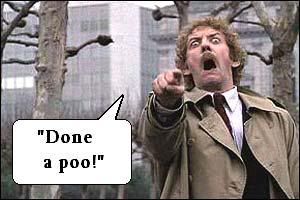 Recent front page messages:






Best answers to questions:





read all their answers]