Profile for Psychosomatic Tumor:
Profile Info:
I don't usually do profile thingies, but as I recently clicked on a Weemee creator link I decided to do a little self portrait, as good as possible: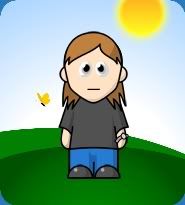 I usually wear it ponytailed though, so this is a bit rare.
On other boards I mostly go by the nick of Fluid, but that one was taken when I registered. No, I don't know why I chose a now-removed compiler message instead. Should've chosen one that made a bit more sense. Oh well, rusted in now anyway.
I'm currently in my second year at the Faculty of Psychology in Maastricht, hoping to specialize in neuropsychology eventually.
Last.fm music profile thingy
Recent front page messages:


none

Best answers to questions:





read all their answers]