Profile for uttertosser:
a member for 18 years, 0 months and 8 days
has posted 73 messages on the main board
has posted 0 messages on the talk board
has posted 0 messages on the links board
has posted 14 stories and 0 replies on question of the week
They liked 3 pictures, 0 links, 0 talk posts, and 4 qotw answers.
Profile Info:
Scientist in manchester whos place of work has banned this site ... bummer!
Gimp fustrates superhero
I love the new tool in Gimp
Going for Gold'en shower'
Howard and the brain
Sullivan Base
Conservative Base
You not getting me on any dam plane fool
Do you think they modelled The Olympic stadium on something else?
richardkeys-dirtyknees
latest DVD release
Blue Peter
Welcome to trumpton
Hong Kong Chop Suey
He's Starsky ... im Hutch
Inappropriate sponsorship
Inappropriate sponsorship ... or just soylent green on another level?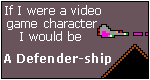 I am a Defender-ship.


I am fiercely protective of my friends and loved ones, and unforgiving of any who would hurt them. Speed and foresight are my strengths, at the cost of a little clumsiness. I'm most comfortable with a few friends, but sometimes particularly enjoy spending time in larger groups. What Video Game Character Are You?

Which Horrible Affliction are you?
A Rum and Monkey disease.
Recent front page messages:


none

Best answers to questions:





read all their answers]