Profile for eleusis:
a member for 18 years, 2 months and 23 days
has posted 300 messages on the main board
has posted 0 messages on the talk board
has posted 0 messages on the links board
has posted 1 stories and 0 replies on question of the week
They liked 0 pictures, 0 links, 0 talk posts, and 1 qotw answers.
Profile Info:
things I like

-2000 AD
-graphics novels
-saves the day
-death cab for cutie
-dashboard confessional
-senses fail
-the early november
-samiam
-cheese (leerdammer)
-females (any species)
-flash

things i dont like

-siblings
-mspaint
-quake 3
-fil batesen

if anyone want to chat or has requests for pictures blah blah blah mail me @ [email protected] or [email protected]

due to popular demand this is how i do them - i use flash mx and a tablet and js doodle until something cool comes up on the moniter :p i draw everyday ALOT so it kinda helps.

some recent images - (fookin large, so it may take a while!)

meet Death Slut... my new character that im currently writing a comic for...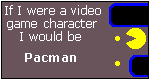 I am Pacman.


I am an aggressive sort of personality, out to get what I can, when I can. I prefer to avoid confrontation, but sometimes when it's called for, I can be a powerful character. I tend to be afflicted with munchies constantly. What Video Game Character Are You?

Recent front page messages:
none
Best answers to questions:
» Shit Stories
i once ate a £20 bag
of skunk in a pot noodle and my shit was green! hehehe and kinda sloppy aswell
hehe
(Thu 6th May 2004, 15:51,
More
)