Profile for lemonymillenniumbaboon:
a member for 18 years, 6 months and 6 days
has posted 522 messages on the main board
has posted 71 messages on the talk board
has posted 1 messages on the links board
has posted 17 stories and 0 replies on question of the week
They liked 16 pictures, 2 links, 0 talk posts, and 9 qotw answers.
Profile Info:
Indie rock! You're my most favourite type of
music... Your music channels lots of emotion.
On the top it seems simple, but underneath
there's always a deep meaning... As your name
you're independent from most of music! Stay
that way! Good on you! There's so much
variation in your style...from deep and
thoughtful like The Stills, to happy go lucky
like Belle & Sebastian, to dancy and catchy
Franz Ferdinand, and back to boogie down Hot
Hot Heat and The Rapture...
What genre of rock are you?
brought to you by
Quizilla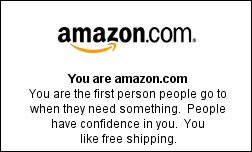 Which Website are You?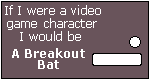 I am a Breakout Bat.


I am an abstract sort of creature, who dislikes any sort of restraint. If you try to pigeonhole me, I'll break the box, and come back for more. I don't have any particular ambitions, I just drift, but I am adept at keeping life going along. What Video Game Character Are You?

You are a
GRAMMAR GOD
!
Congratulations! If your mission in life
is not already to preserve the English tongue,
it should be. You can smell a grammatical
inaccuracy from fifty yards. Your speech is
revered by the underlings, though some may
blaspheme and call you a snob. They're just
jealous. Go out there and change the world.
How grammatically correct are you? (Revised with answer key)
brought to you by
Quizilla
WOW! YOU ARE A TRUE B3TAN!!! COME IN! JOIN THE
PARTY!
Are You A Natural B3tan
brought to you by
Quizilla
Recent front page messages:


none

Best answers to questions:





read all their answers]