Profile for mrtinybrain:
Profile Info:
Hello, you seem to be reading my profile. Errm. Hmm. Well, I have a website. which is
www.mrtinybrain.com
(hence my username)
I enjoy lauging, writting rubbish in forums (just take a look at mine (www.forum.mrtinybrain.com).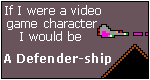 I am a Defender-ship.


I am fiercely protective of my friends and loved ones, and unforgiving of any who would hurt them. Speed and foresight are my strengths, at the cost of a little clumsiness. I'm most comfortable with a few friends, but sometimes particularly enjoy spending time in larger groups. What Video Game Character Are You?

I think i will update this sometime, but for now this will do!
Recent front page messages:


none

Best answers to questions:





read all their answers]