Profile for The Sisko:
a member for 16 years, 10 months and 8 days
has posted 632 messages on the main board
has posted 0 messages on the talk board
has posted 2 messages on the links board
(including 1 links)
has posted 6 stories and 0 replies on question of the week
They liked 36 pictures, 0 links, 0 talk posts, and 28 qotw answers.
Profile Info:
I'm starting to play with the simple style of some of the pictures I have here, and run on odd ideas that inspire me.
Here is one of my only creations. Its a little story about love.
Here is the result in combining a fox and lightning:
Snail:
Mixing socks with badgers:


Which File Extension are You?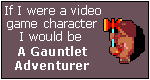 I am a Gauntlet Adventurer.


I strive to improve my living conditions by hoarding gold, food, and sometimes keys and potions. I love adventure, fighting, and particularly winning - especially when there's a prize at stake. I occasionally get lost inside buildings and can't find the exit. I need food badly. What Video Game Character Are You?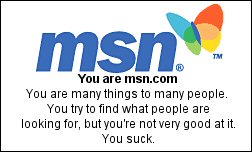 Which Website are You?
Your Birthdate: March 30


You have the type of personality that people either love or hate.

You're opinionated, dramatic, intense, and very outspoken.

And some people can't get enough of you - they're totally addicted.

Others, well, they wish you were a little more reserved.



Your strength: Your flair



Your weakness: If you think it, you say it



Your power color: Scarlet red



Your power symbol: Inverted triangle



Your power month: March

Recent front page messages:


none

Best answers to questions:





read all their answers]