Profile for drunkenoaf:
Profile Info:
I'm not nearly as drunk as much or as often as I should be. I seem to spend most of my time on the web here.
Make me less skint by buying rude t-shirts and mugs from
here
. They're mostly ripping the piss out of the Police...
My e-mail? That (username of mine) at the old gmail of the dot-com. MSN me? A similar procedure is required, although my MSN passport is with hotmail. But ask first!
Recent "oh so nearly was a front page, but... really they were shite" messages: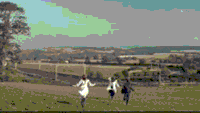 Well, Virgin trains are often a bunch of cock.

MB's new game!
Calm down dear, it's only a facefull of spunk. Did I mention I have a PhD?
(Well, it made the newsletter)
My first attempt at a pseudo-vector
The lovely
In Vino Veritas
vectored me.
Recent front page messages:


Best answers to questions:





read all their answers]