Profile for the wild elk:
a member for 18 years, 8 months and 30 days
has posted 5883 messages on the main board
has posted 1 messages on the talk board
has posted 0 messages on the links board
has posted 23 stories and 0 replies on question of the week
They liked 48 pictures, 0 links, 0 talk posts, and 5 qotw answers.
Profile Info:
on the piss at Butlins Ultimate Weekender, Oct 2005, with me brethren
yep, me, and some fine ladies, shop it to buggery, if you will
Hello. I am Mark. Am 32.100%indigenous english. ie: A ging
My son was diagnosed with cystic fybrosis when he was 3 months old, please help the fight....
http://www.cfwristbands.co.uk/
my Butlins Ultimate Weekender pics can be found here: http://photobucket.com/albums/v634/chewbaccas_mate/Butlins2005/
that's me, arseing around with my lightsaber
http://www.liquidgeneration.com/quiz/images/innocently_perverted.jpg
To link it (the actual code):

:: how jedi are you? ::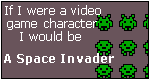 I am a Space-invader.


I will happily recruit the help of elves to aid me in getting what I want. I have no tolerance for people getting in my car, and I am completely relentless until any bras or opposition are removed. I try to be pissed, but something always seems to get in the way. What Video Game Character Are You?

Which ABBA member are you ?
This pointless quiz was made by
TMO
What Kind of Drunk Are You?
Brought to you by Rum and Monkey
What kind of pirate am I?
You decide!
You can also
view a breakdown of results
or
put one of these on your own page
!
Brought to you by
Rum and Monkey

You Are 31 Years Old

Under 12: You are a kid at heart. You still have an optimistic life view - and you look at the world with awe.

13-19: You are a teenager at heart. You question authority and are still trying to find your place in this world.

20-29: You are a twentysomething at heart. You feel excited about what's to come... love, work, and new experiences.

30-39: You are a thirtysomething at heart. You've had a taste of success and true love, but you want more!

40+: You are a mature adult. You've been through most of the ups and downs of life already. Now you get to sit back and relax.
Recent front page messages:


none

Best answers to questions:





read all their answers]