Profile for Orkran:
Profile Info:
24 Year Old Student at Christ Church Canterbury University.
LIES 28 YEAR OLD EMPLOYEE SIGH
Went to school with chrico, kingofpork and m1k3k.
Fairly laid back except when in pysoctic gerbil mode, which is unfortunetly occuring more as the disease spreads though my lower arteries and pancriatic node.
My grand contribution:
An experiment in which the quality of drawing with buttocks is determined.
Intent: To determine wether or not it was possible to draw an eye better by holding the pen with buttocks rather that hands. (http://www.b3ta.com/board/5390089).
Equipment : Ordinary A4 paper and a black marker pen.
The paper was placed onto an ordinary chair.
A control picture was drawn using a hand, for comparison with the ass pictures.
The pen was placed between the buttocks facing downwards at a 90 degree angle, as in fig.1
It was a lose hold, but by clenching it was actually possible to get a mesure of control over the pen other than just moving the arse.
The drawing isnt too bad, its recognisably an eye.
The second attempt used a different style, placing the pen at a 180 degree angle, as in fig 2. NB: pen did not penetrate. Do not insert pens into yourself.
Not as good. The angle is far less intuitive, and unless your arse is massive then theres a much pooerer grip on the pen.It is, however, just about recognisable as an eye.
Conclusion: Neither of the grips tested provided adeuquate quality of drawing to assert that ass-drawing (turgography. lit "drawing from behind"). However, grip one demonstrated that like the hands, the suprising amount of muscle control allows for pen manipluation to a large degree. While currently not on par with hand drawing, I fully expect Turgographic Artists in the future, given the exiting and original new medium to work with.
~~~~~~~~~~~~~~~~~~~~~~~~~~~~~~~~~~~~~~~~~~~~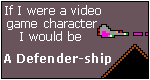 I am a Defender-ship.


I am fiercely protective of my friends and loved ones, and unforgiving of any who would hurt them. Speed and foresight are my strengths, at the cost of a little clumsiness. I'm most comfortable with a few friends, but sometimes particularly enjoy spending time in larger groups. What Video Game Character Are You?

The Dante's Inferno Test has sent you to the First Level of Hell - Limbo!
Here is how you matched up against all the levels:
Take the Dante's Divine Comedy Inferno Test
Shikamaru: You're Shikamaru. You're a pretty lazy
person, and you'd refuse to do anything if it
might be a pain in the ass. Though, when you
find something worth doing, you set out to do
it right and devote yourself to it.
.:What character from Naruto are you?:. (20 results with pics)
brought to you by
Quizilla
Which Family Guy character are you?

What Is Your Animal Personality?
brought to you by
Quizilla
You Are Not Scary


Everyone loves you. Isn't that sweet?
Recent front page messages:


none

Best answers to questions:





read all their answers]