Profile for RedWine:
Profile Info:
Axel,
34
35
36
37
38
39
old, engineer (electronics and software)
Me, slightly drunk, on a "working holiday" in Melbourne
(And just in case you ask yourself, yes I can play that thing. Not very well, but when I'm drunk, it sounds quite good. To me.)
Things I live for:
a glass of fine red wine
French cheese (Bleu d'Auvergne, Tome de Savoye, Pont l'Eveque, Brie de Meaux, St. Nectaire, Brebille rosse, Chevre)
Food in general
Music!
The one I would die for: Emily
If you bother, contact details:
axel_mesek(AT)yahoo(dot)de
My finest B3ta moments:

Winning QOTW



Winning the compo
Projects:
DIY hovercraft
I love pointless quizzies!

My pirate name is:


Bloody Tom Kidd


Every pirate lives for something different. For some, it's the open sea. For others (the masochists), it's the food. For you, it's definitely the fighting. Even though you're not always the traditional swaggering gallant, your steadiness and planning make you a fine, reliable pirate. Arr!

Get your own pirate name from fidius.org.



Which OS are You?


Which File Extension are You?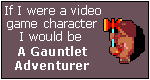 I am a Gauntlet Adventurer.


I strive to improve my living conditions by hoarding gold, food, and sometimes keys and potions. I love adventure, fighting, and particularly winning - especially when there's a prize at stake. I occasionally get lost inside buildings and can't find the exit. I need food badly. What Video Game Character Are You?

Which Horrible Affliction are you?
A Rum and Monkey disease.

What Is Your Animal Personality?
brought to you by
Quizilla



find your element
at mutedfaith.com.




what's your battle cry? |
mewing.net | merchandise!

WOW! YOU ARE A TRUE B3TAN!!! COME IN! JOIN THE
PARTY!
Are You A Natural B3tan
brought to you by
Quizilla
Which Extremity of the World Are You?
From the towering colossi at Rum and Monkey.
What kind of pirate am I?
You decide!
You can also
view a breakdown of results
or
put one of these on your own page
!
Brought to you by
Rum and Monkey
You Are Scary


You even scare scary people sometimes!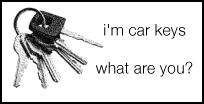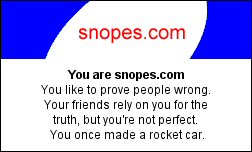 Which Website are You?
You are Brian. The family dog and the most
intelligent member of the family. Try not to
wet yourself on the carpet anymore.
Which Family Guy Character are You?
brought to you by
Quizilla
Recent front page messages:


none

Best answers to questions:





read all their answers]