Profile for crazyjude:
Profile Info:
I am now living in sunny essex in Rayleigh with the lovely MrsCrazyJude and werking in south Essex. (uk) i'm a member of the 1974 club. i'm a lady don'tcha know.
if an emergency occours i can be reached on jude underscorethingy evans at hotmail dot com
if your really bored i'm on myspace.com as crazyjude too, and facebook.
somedays i like to just sit and stare out of the window. this mainly happens when i'm supposed to be driving.
i do do piccies but they are poor so you won't see many until i get better.
All my hosting died so you can't see any of my pics until i find them again and host them somewhere else.
DTH made me a poem
There was a young lady called Joood,
Whose nipples were mangled and chewed,
Her bum was serrated,
red-raw and grated
and other bits . . . well, just too rude! C];0)
Malchick made me one too
Jude Jude she's quite rude
Never introduce her to a prude
Likes to play with false protrudes
(Yes that last line is quite crude)
Thats our lovely lovely Jude
I have been zombified by the very wonderful happy toast
I have had a wonderful picture drawn by Lord Otterby
I have been drawn by butters:
I have been pixelated too by foldsfive:

Which Johnny Depp are You?


You are Captain Jack Sparrow. You're fun loving, boisterous and a little full of yourself. You tend to look out for your own interests- although you have a compassionate side; you'll only help others if it benefits you as well. Rarely are you serious about anything. Like many people, you're just trying to be free. You also somehow manage to look masculine despite the fact that you wear mascara and move like a drag queen.
Take this quiz!







Quizilla |
Join

| Make A Quiz | More Quizzes | Grab Code
You Are 17 Years Old


Under 12: You are a kid at heart. You still have an optimistic life view - and you look at the world with awe.



13-19: You are a teenager at heart. You question authority and are still trying to find your place in this world.



20-29: You are a twentysomething at heart. You feel excited about what's to come... love, work, and new experiences.



30-39: You are a thirtysomething at heart. You've had a taste of success and true love, but you want more!



40+: You are a mature adult. You've been through most of the ups and downs of life already. Now you get to sit back and relax.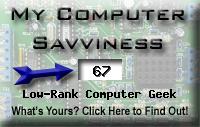 Which Trainspotting Character Are You?
ok i finally made a pic and as it's my first i'm going to put it in here so yah boo sucks.
Recent front page messages:
none
Best answers to questions: