Profile for its_hatorah_bitch:
Profile Info:
Female,
22
23
24
25 (blimey!)
studying for a Masters at University of Cambridge
. Masters done diddly done,
awaiting bad/good/indifferent news. Currently doing a gig on the unemployment line...with a teeny bit of coding work on the side.
Got a job in
London-town,
Wallington (Wally Town) pays ace amounts, passed the Masters. I win at life.
'Pseudo geek' apparently - keen on interwebs, computing, odd bit of programming (umm...Latex :P), gameage etc.
I enjoy a yoke as much as the next man. I have been creating semi-successful talk threads since the beginning of this year. The Pope went down a storm.
This is me as drawn by Dave Laird Draws - it is very good, non? It is also very flattering, as I look like the Elephant Man in real life.
BraynDedd invited me to this, since I was born in 1987: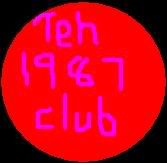 It's watching you:
Inked by the lovely Pasanonic - drawn by me!
The very keen paranoiaman did this lovely pic of me :P :
The wonderful HappyToast zombie-fied me :D
The uber talented in vino veritas vectored me :D

Recent front page messages:


none

Best answers to questions:





read all their answers]