Profile for Frugle:
a member for 19 years, 8 months and 17 days
has posted 721 messages on the main board
(of which 1 have appeared on the front page)
has posted 0 messages on the talk board
has posted 1 messages on the links board
has posted 0 stories and 0 replies on question of the week
They liked 0 pictures, 0 links, 0 talk posts, and 2 qotw answers.
Profile Info:
frugle.co.uk
g33k owner of the original cute kitten
be nice to me, I'm a board n00bie
The Dante's Inferno Test has banished you to the Ninth Level of Hell - Cocytus!
Here is how you matched up against all the levels:
Take the Dante's Inferno Hell Test
You are a
GRAMMAR GOD
!
If your mission in life is not already to
preserve the English tongue, it should be.
Congratulations and thank you!
How grammatically sound are you?
brought to you by
Quizilla
Recent front page messages:
More breaking news...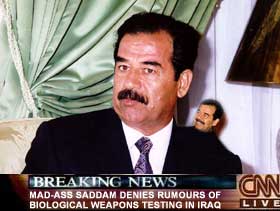 (Tue 24th Sep 2002, 23:37,
More
)
Best answers to questions:
none