Profile for Davros' Granddad:
Profile Info:
I'm a
wrong side of 30
middle aged regeneration adviser with a penchant for all things Dalek. Self confessed geek, ex old-school goth, amiable, beer swilling, armchair footballer. Except I don't get much chance to watch footy as I recently moved in with my sweary other half and neither she nor her 11 year son can stand football... and we haven't got Sky or Setanta, which cuts down the opportunities even more...
I'm usually on QOTW, possessing as I do a total lack of photoshop skills despite originally training as a graphic designer (mind you, that was 20 years ago when magic markers were the height of technology and computers were still a science fiction concept).
Introduced to this site by Legless (hello mate and thanks. Hope you enjoy Oz).
Founder member of the b3ta flappy coat club.
This is me, exercising my right arm on holiday last year:
Even though David Tennant's replacement has been announced, I thought I'd place this here for future reference. Are you watching, Mr Moffatt...?
For those who have been wittering on to see a pic of the famous Dalek, here it is: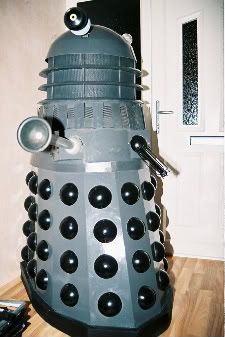 And, in for a penny, in for a pound (courtesy of the lovely chickenlady)
Recent front page messages:


none

Best answers to questions:





read all their answers]