Profile for Heather S:
Profile Info:
Err, I'm the one who made the
Giant Bee Toy
And TruthBadger(
1
)(
2
)(
3
)
and
Hamsters in Hats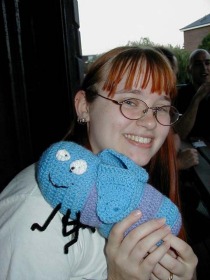 Giant Bee and Me, taken from 2nd b3ta bash, orginal pic from
here
I sell Giant Bees for 15ukp each plus postage. 100% handmade and takes a minimum of 2hrs to complete each one.
I also do requests for knitted animals, poke me and ask and I'll tell you if I think I can make it.

Recent front page messages:
none
Best answers to questions:
» People with Stupid Names
my nutty grandmother's nomenclature
My grandmother decided since her new married named (Amspacker, an already embarrassing name) and her husband's name was Aruthur Alto, she would create a naming scheme for her children. The first would have the initials AAA, the next ABA, ACA, ADA etc. So my aunt's name is Anita A. (can't remember her middle name), my mother's name is Alana Benay, my other aunt's name is Andra Caron, and my uncle's name is... Arick Dane. It's pronouned "Eric" and when he spells it to people over the phone they actually say "Are you sure it's spelled that way?"
(Thu 26th Aug 2004, 18:36,
More
)