Profile for daf:
a member for 20 years, 7 months and 18 days
has posted 154 messages on the main board
(of which 1 have appeared on the front page)
has posted 0 messages on the talk board
has posted 31 messages on the links board
(including 19 links)
has posted 2 stories and 0 replies on question of the week
They liked 758 pictures, 61 links, 0 talk posts, and 7 qotw answers. [RSS feed]
Profile Info:
ok... so, i was competing for the coveted[?] title of b3ta's uber lurker.
i had my reasons; none of them sufficient justification for my lack of hummus
i like puns, freaks, hard dance music and photo-chromic dyes.
---
i dislike stupid people, bad animations and onions.
---
This
work
is licensed under a
Creative Commons Attribution-Noncommercial-No Derivative Works 2.0 UK: England & Wales License
.
Recent front page messages:
i tried
to get my mate to shave something into the back of my head... but the image wouldn't load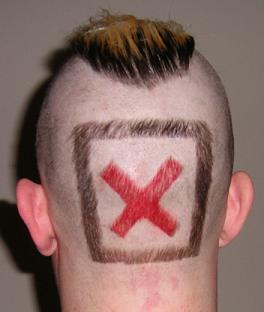 (Thu 12th Jun 2008, 14:09,
More
)
Best answers to questions:
» Best Graffiti Ever
there's been a spate of these quotation marks popping up
this one was at a bus stop on green lanes in london
made me chuckle
(Thu 3rd May 2007, 18:48,
More
)
» Worst Record Ever
gregorian chant abba...
ok, so it was a present, but i kinda like it
click for linkage
and the best/worst... well you can't go wrong with money money money
(Wed 3rd Dec 2003, 10:59,
More
)