Profile for joehmbunn:
a member for 12 years, 3 months and 5 days
has posted 75 messages on the main board
(of which 1 have appeared on the front page)
has posted 40 messages on the talk board
has posted 80 messages on the links board
(including 33 links)
has posted 2 stories and 0 replies on question of the week
They liked 5 pictures, 16 links, 0 talk posts, and 1 qotw answers.
Profile Info:
none
Recent front page messages:
Offering a new service during lockdown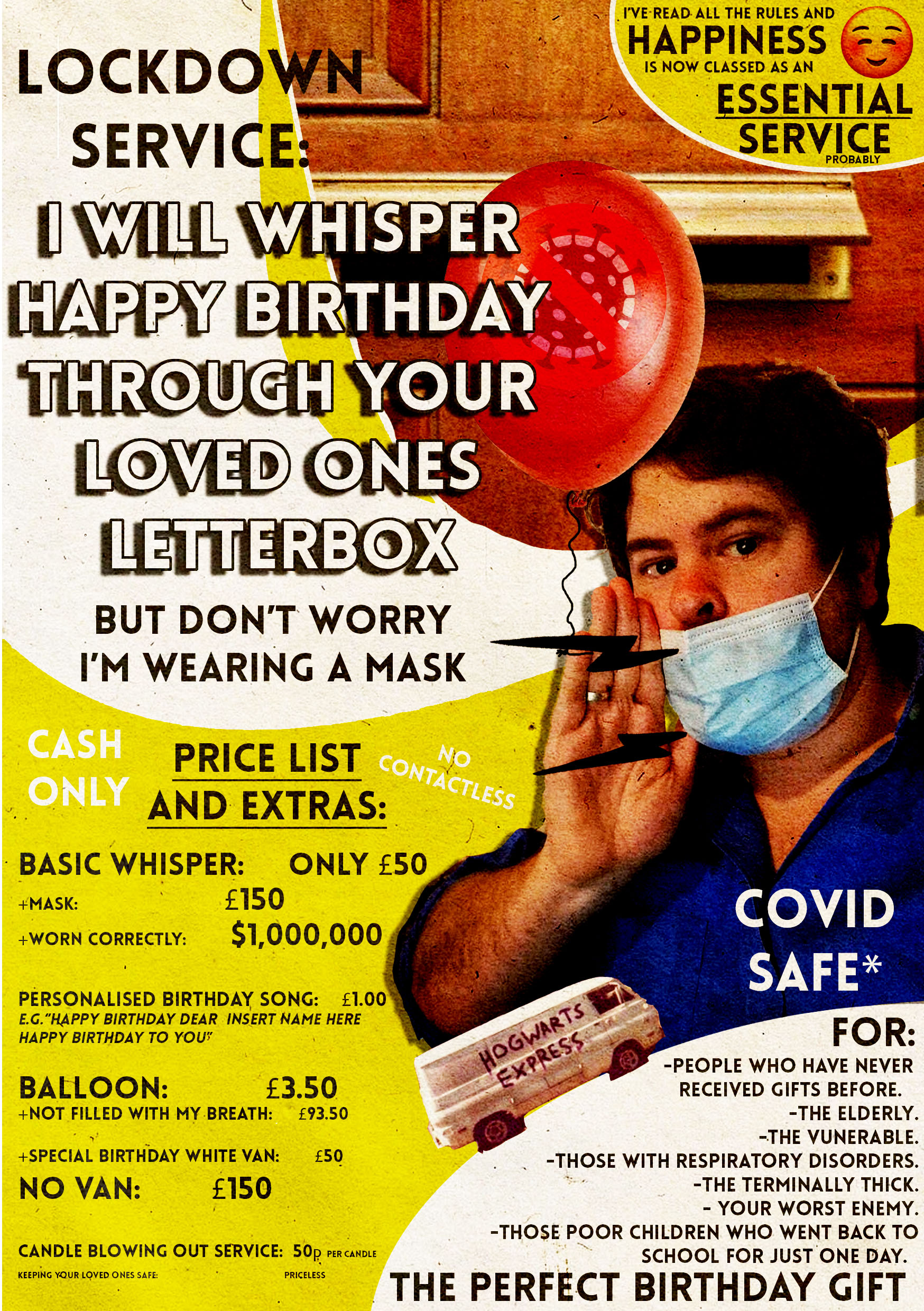 Click for bigger (1121 kb)
After seeing that the local town crier was driving around in a white van with a whiteboard on the side to shout Happy Birthday at locals, I thought I'd start my own service.
(Thu 7th Jan 2021, 19:06,
More
)
Best answers to questions:
» I'm Sorry I've Written A Joke
Niche
I was tasked with making a remake of Starsky and Hutch, but it was to star light entertainers. So we got Les Dennis for the Starsky role, and we wanted Keith Chegwin to play the other one. We got him in to audition, and whilst he was there he said something racist, and I accidently called him the C word, and he went off in a huff, saying he wouldn't do it.
Moral of the story: NEVER CUNT YOUR CHEGGERS BEFORE HE'S HUTCH.
(Wed 2nd Dec 2020, 0:25,
More
)
» Nightclubs
Two Shudders
1) Started to night tongue in cheekly telling a woman she didn't look old. Ended it with my tongue in her cheek on the dancefloor. Whilst she was in the arms of her fiancee. She turned out to be a swinger. She was 27, had a huge scar on her neck, smelt of fish and had a clitoris the size of a cocktail sausage. He looked like an out of work paedophile. i didn't touch the man.
2) The same woman's friend, a horsey woman known as Caroline, seemed in love with me. She sang the whole of 'I will love you' by Bon Jovi to me whilst i was completely sober, in the middle of the dancefloor of the local club.
Good nights.
(Sun 12th Apr 2009, 20:17,
More
)