Profile for D.I.pshit:
Profile Info:
/TALK IS SHITE. ITS OFFICIAL.
I've heard its been better recently though, might take a look.
Hello. You are the
visitor to my profile.
Miss Fortunates accurate depiction of me:
I'm pshit, Detective Inspector pshit. Im 14 and /talk is shit. full of hypocrites and knobheads. QOTW i like though, so expect to see me there more often than talk. I may do some stuff on /board, but im rubbish with potatoshop so dont expect much. Oh, and yes I may be 14 but dont worry censoring stuff, I've probably heard the fair majority of it before :D
HOLY SHIT! Minecraft is awesome!

Which File Extension are You?


Which Programming Language Are You?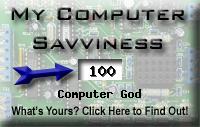 Recent front page messages:


none

Best answers to questions:





read all their answers]