Profile for the stainless steel rat-boy:
a member for 19 years, 7 months and 0 days
has posted 675 messages on the main board
has posted 0 messages on the talk board
has posted 0 messages on the links board
has posted 0 stories and 0 replies on question of the week
They liked 82 pictures, 0 links, 0 talk posts, and 1 qotw answers.
Profile Info:
VJ XSion & (im)mature student!

Which OS are You?

You are a
GRAMMAR GOD
!
Congratulations! If your mission in life
is not already to preserve the English tongue,
it should be. You can smell a grammatical
inaccuracy from fifty yards. Your speech is
revered by the underlings, though some may
blaspheme and call you a snob. They're just
jealous. Go out there and change the world.
How grammatically correct are you? (Revised with answer key)
brought to you by
Quizilla
The Dante's Inferno Test has banished cal6n to the Second Level of Hell!
Here is how he matched up against all the levels:
Take the Dante's Inferno Hell Test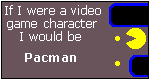 I am Pacman.


I am an aggressive sort of personality, out to get what I can, when I can. I prefer to avoid confrontation, but sometimes when it's called for, I can be a powerful character. I tend to be afflicted with munchies constantly. What Video Game Character Are You?

Recent front page messages:
none
Best answers to questions:
none