Home » Messageboard » Elections » Message 11225436
(
Thread
)

does this work?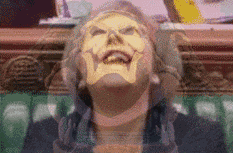 From the
Elections
challenge. See all
189 entries
(open)
( , Mon 8 May 2017, 11:15,
archived
)

They don't call her 'Theresa "Spin-Cycle" May' for nothing, you know.
I'm sure this image has a long way to go with that sort of theme - she might regret doing it (the fake laugh, not the waching machine).
( , Mon 8 May 2017, 12:16,
archived
)