Home » Image Challenge » Safety First!
[Suggest a different challenge]

still open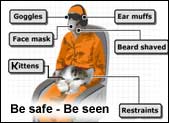 Safety First! Last week we wanted hazardous toys, this week we want to see special safety equipment for yourself, your loved ones and your kittens. Wrap up warm, then get an adult to help you open photoshop and send your creations
to the messageboard
.
(Fri 20 Sep 2002, 16:37)

why o why patrick??
yeh i dont get computers, but i love the patrick moore playin the xylophone thing,but the bloody sounds broke, and its annoyin coz i like nothin more than singin and dancin along(sad i kno) but u cant sing and dance without music!!aaaaaaaaaaaaaaaaaaaaaaaaaaagh!!FIX IT!(jim?)
( , Tue 22 Oct 2002, 18:45,
More
)

Shameless Plug
Sorry to disturb you, but can I be so bold as to annoy you for one moment and request that you take a quick peek at my new website?
www.robertisadamndirtyape.co.uk
It's *ahem* full of irreverance and trash. There's not much there at the moment, but projects will follow shortly ... There is also a forum/messageboard where you can leave your hate-mail, site suggestions and inspiration. Thank you for your time ... damndirtyape
( , Sun 20 Oct 2002, 22:26,
More
)

tosser
could think of super cool stuff to print on your teeshirt without you being so rude
( , Sun 20 Oct 2002, 13:10,
More
)

Hi.. here are som newbie pieces!!!!!!!!!
Probably the wirst newbie submissions ever... and probably been done before...
( , Wed 16 Oct 2002, 1:03,
More
)

What does that mean?
Can sum1 please tell me what a cuntymint is???
( , Thu 10 Oct 2002, 22:33,
More
)

Do Hamsters
officiate at all lightsabre fencing matches?
( , Thu 10 Oct 2002, 12:15,
More
)

Poor Pres. Bush...
He's got a dookie problem...
( , Thu 26 Sep 2002, 20:59,
More
)

Poor Pres. Bush...
He's got a dookie problem.

Scoopzilla
http://www.slapwatch.com now get to fuck
, Thu 26 Sep 2002, 20:39,
More
)

I need one of these......
three days worth of board without having to scroll....
( , Thu 26 Sep 2002, 15:12,
More
)

Keeps dogs at bay.
( , Thu 26 Sep 2002, 12:05,
More
)