Home » Image Challenge » Zoom! Extreme Close Up
[Suggest a different challenge]

still open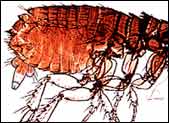 Magnifying glasses aren't just good for burning ants with. If you look through them you can see really small things, it's fantastic! Open photoshop and show us the close up details of everything!
(Fri 1 Apr 2005, 10:15)

Tentative link with the compo....
( , Fri 1 Apr 2005, 11:21,
More
)

Topical Flearoast for compo...
( , Fri 1 Apr 2005, 10:35,
More
)