Profile for Woodgie:
Profile Info:
I'm me, who are you?
I went away, but now I came back. Then I went away again and now I'm sort of hovering on the event horizon.
I'm the Official Mac Guru™ of the
Secret B3ta Apple Underground Resistance
and as such the rather spiffing
niceandwarmandhot
made me this:
Members so far (in no particular order):
Me
this week i am mostly
niceandwarmandhot
bilbobarneybobs
Spenface
Thor_sonofodin
SugarSpunSister
ivesb
There are probably more, Gaz me and I'll type your name straight into the list, should you so wish.
Let's break up this rambling drivel with a picture:
Right, that was fun. On with the drivel.
Christ I'm going to regret this (stupid pledge number 1)...
And as I'm a teacher of most things Mac (and the fact that bilbobarneybobs decided to name me Official Mac Guru™), should you have a pressing (Mac based) question please feel free to ask me about it. I might even be able to answer!
This is Bob. Bob's a BAD MAN. He wants to take over the world but can't seem to get his worms out correctly.
First, he tried this:
Then he tried this:
Lately, he's tried this:
Lord knows where it's going from there!
Back to me. Apparently I'm also this, is there any hope for me?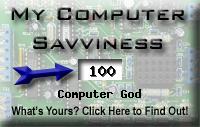 Just curious...
(No-one's voted for VMS, I'm surprised. No REAL geeks out there? Oh no, there's one vote. Whoever you are, gaz me and tell me if that was just to even out the poll!)
On 14-09-07 I went and made a(nother) stupid pledge in
this thread...
I got awarded this:
For my efforts in
this thread
Recent front page messages:


none

Best answers to questions:





read all their answers]