Profile for Devlin Aka DJEllen:
a member for 18 years, 9 months and 20 days
has posted 101 messages on the main board
has posted 2 messages on the talk board
has posted 0 messages on the links board
has posted 2 stories and 0 replies on question of the week
They liked 0 pictures, 0 links, 0 talk posts, and 0 qotw answers.
Profile Info:
[email protected]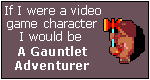 I am a Gauntlet Adventurer.


I strive to improve my living conditions by hoarding gold, food, and sometimes keys and potions. I love adventure, fighting, and particularly winning - especially when there's a prize at stake. I occasionally get lost inside buildings and can't find the exit. I need food badly. What Video Game Character Are You?

Recent front page messages:
none
Best answers to questions:
» Embarrassing Injuries
It was 2 days ago
i where playing football with my mates and we playd on a 11 men goal i was the goly and the best of the players Shot a Realy hard one in my middle part...
(Thu 2nd Sep 2004, 13:50,
More
)
» My Worst Vomit
Mo
its not sutcha good story but i woke up at 7,30 in the morning and felt a little ill so i took some sick pills and that dident work cause i puked of them and then i tryd to sleep and went up puking like 2 mins again :P
(Sat 21st Aug 2004, 10:46,
More
)