Profile for The Beast:
a member for 18 years, 11 months and 19 days
has posted 1514 messages on the main board
has posted 20 messages on the talk board
has posted 5 messages on the links board
has posted 124 stories and 0 replies on question of the week
They liked 8 pictures, 0 links, 1 talk posts, and 1 qotw answers.
Profile Info:
I try incredibly hard to rise to the challenge of normaility, however I always seem to fail.
Actually resonably intelligent with a BSc, MSc and lots of work related stuff that's of no interest to anybody.
You can always reach me at dilbertsuncle at hotmail co uk
You Are Scary


You even scare scary people sometimes!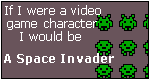 I am a Space-invader.


I will happily recruit the help of friends to aid me in getting what I want. I have no tolerance for people getting in my way, and I am completely relentless until any threats or opposition are removed. I try to be down-to-earth, but something always seems to get in the way. What Video Game Character Are You?

Which Colossal Death Robot Are You?
Brought to you by Rum and Monkey

I am Vanilla Flavoured.


I am one of the most popular flavours in the world. Subtle and smooth, I go reasonably with anyone, and rarely do anything to offend. I can be expected to be blending in in society. What Flavour Are You?

Recent front page messages:


none

Best answers to questions:





read all their answers]