Profile for kuntybawz:
a member for 19 years, 0 months and 4 days
has posted 196 messages on the main board
(of which 1 have appeared on the front page)
has posted 2 messages on the talk board
has posted 0 messages on the links board
has posted 1 stories and 0 replies on question of the week
They liked 9 pictures, 0 links, 0 talk posts, and 0 qotw answers.
Profile Info:
none
Recent front page messages:
Behold!
All hail the wogan crisp...
(Woo!! FP with my 2nd post! Props to Foxy!)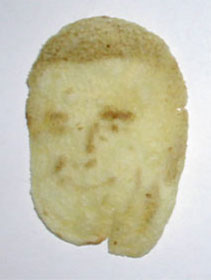 (Sun 22nd Aug 2004, 22:44,
More
)
Best answers to questions:
» World's Sickest Joke
Old Mr Johnson goes to the doctors for his test results...
And the doctor says to him "There is no easy way of telling you this Mr Johnson but you have Alzheimers disease.....and you have cancer"
Mr Johnsons looked utterly shocked, "oh my god you have to be kidding me, oh well, at least I don't have cancer eh?"
BOOM FUCKIN BOOM!!
sorry
(Fri 10th Sep 2004, 12:57,
More
)