Profile for Shazzoir:
Profile Info:
I'm a vintage model female who lives in Queensland, Australia, and I'm built for comfort these days, not for speed ;)
I have three classic cars, like photography, travelling, taking photos while I'm travelling, sometimes while driving, which probably isn't that safe really. Don't try that at home, kids.
I mostly draw just for shits and giggles if I'm in a good mood on the board and draw or write just about every night, it's my meditation time really. I'm also rather enamoured of creating huge, sprawling fictional tales starring my own original characters (OCs) and a friend's OC, who we collaborated on to create: Kurt. I draw him a LOT, as well as my own boys Lonnie, Deacon, Jay, Chris and Denny (you'll find some of those lovely lads below). Most of the stuff I make is gifts for people but I do do the odd commission for REAL CASH MONEY, what a novelty!
7th May 2009: Farewell, my much loved Kimbi: 16 years of your fluff, love and purring was not anywhere near long enough for me. You trained four Rotties for me while you lived, and your firm paw of discipline has always been a good thing for those naughty puppies. I'll miss you, my little man.
This is my baby: She's a 1977 Ford Falcon 500 GS hardtop (Pillarless coupe to be exact), and I love her to bits. Plus she goes like absolute stink!
ARTS I HAVE MADE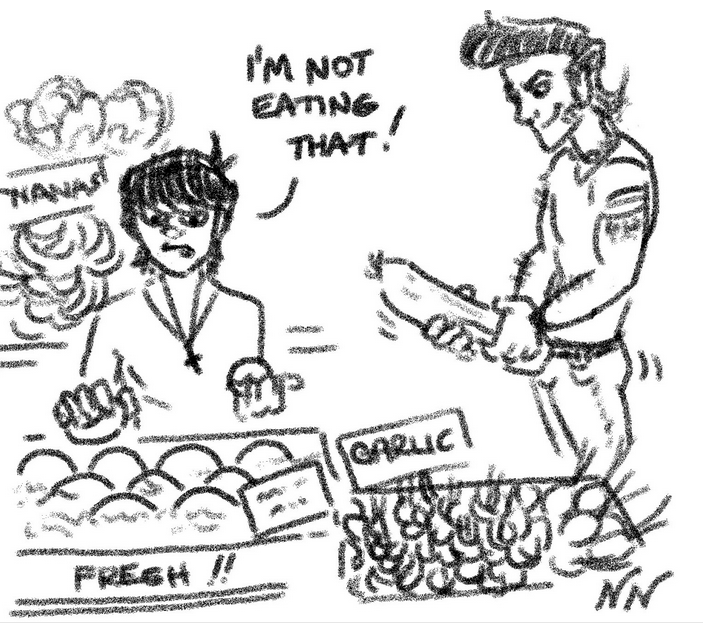 CD cover design for a friend's band's EP titled 'That Ain't Fair'
Junior, looking relaxed
Was mucking around with T-shirt designs and this was the result
Lovely friend Chris, guitarist par excellence in my fave band. 'Twas his 50th birthday, and I quickly scratched this up for him. He adores it and blew it up to HUGE size and it now sits on the wall of his music room :D
Right… this was a request from my dear friend Stephen O'Malley from South Australia's neo-rockabilly band, The Saucermen… he asked if I would use my imagination and illustrate one of his songs, "On Jagged Rocks" which you can listen to here. It's a salutory lesson that all is not always as it appears and well… listen for yourself.
https://www.youtube.com/watch?v=Rnzhg4KD6DI
"Caveman In A Spaceship" The lyrics of this song by one of my fave neo-rockabilly bands, The Saucermen, tickled my sense of the absurd so much, I had to draw this
The finished product
My dear Nano
Ding, upright bass playing dingo
Ted, the mascot of my weekly rockabilly radio show "Rockabilly Downunder"
A lovely gentleman and a damn fine musician… Fernando Lavado Villanueva lead vocalist and drummer of the sensational 'Gatos Locos', Spain.
King C and family are expecting a new arrival to the royal line any day now, and it will be interesting to see if grand daughter Lea will follow in the family's footsteps with regard to an exceptional talent for music…
One of my dear friends lost his beloved father Guiseppe, on this day, fifteen years ago. He posted a heartfelt message on Facebook, with a photo of this handsome man, his father, and I felt compelled to draw him. I loved doing his eyes and hair the most.
Junior again.
Kurt and his pet duck, Sarge
2013 Chrimbo card
CD cover for a local Brissie rockabilly band's EP, titled "That Ain't Fair"
That dude from Supernatural. Friend's birthday gift.
Another gift for my buddy, Zach in the USA
My little heartbreaker, Deacon.
One of my characters, Ally Weber
Art of my dear friend Chema who runs the radio station I broadcast for.
Kurt in his truck
Gift art for an Austrian rockabilly band I adore, and surprise surprise, they are featuring it on their new CD which comes out in September 2014!
The loss of a pet is never easy but I did this for a couple of friends so they had something nice to remember her by
Old art of a friend's Staffy
Lena and Devlin, two more of my characters.
Farewell gift for a visiting French student, Thibault; his dog
Another of my characters, 'Junior'
A friend's OC, Howler:
My character, Deacon - "Wanna Ride?"
Vance: One of my fave dudes
Castiel for Nis
Denny Carsonne (C) me
DA hairdo
Murduck, LOL
LemurDoc
Friend from work, Shane
Majestic creatures (Vance camping)
Lonnie at the bar:
Lonnie detail:
Vance on his cycle
Fucking about with the classics:
Kelsey, one of my OCs.
Kurt:
Recent front page messages:


none

Best answers to questions:





read all their answers]