Profile for Maximinimus:
Profile Info:
Maximinimus stole a monkey and got punched in the nuts, is tall but not amazingly tall, has freakishly large feet, we're talking more in proportion with a clown than a human (everyone knows they are different species).
He is one of the most boring people you are likely to meet, working by day as a software engineer but enjoying paintball, airsoft, cycling and motorsports in his free time.
It is also said that he posesses the ability to rip aircraft from the sky with his mind and consume entire cities, from looking at him I would say the latter may be true. But it's totally cool, he's lost shitloads of weight recently, probably more than you weigh.
oh, you look nervous, is it the scars?
I NO LONGER own a DINOHOODIE, 4EVER IN ARE HEARTS!
But I do still own a rabbit hat!
I also play rugby for
Newark
Ilkeston
From the super
J Peasemould Gruntfuttock
:
I participated in the tin foil hat event: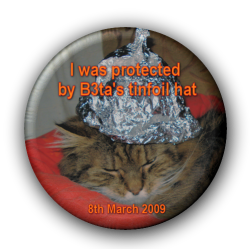 Most Sinister Award
Recent front page messages:


Best answers to questions:





read all their answers]