Profile for MarkP0rter:
Profile Info:
feel free to spam me:
AIM: MarkP0rter
MSN:
[email protected]
http://markp0rter.deviantart.com/
http://www.myspace.com/markp0rter
Your Career Type: Autistic


You are expressive, original, and independent.

Your talents lie in your autistic abilities: creative writing, drama, crafts, music, or art.



You would make an excellent:



Actor - Art Teacher - Book Editor

Clothes Designer - Comedian - Composer

Dancer - DJ - Graphic Designer

Illustrator - Musician - Sculptor



The worst career options for your are conventional careers, like bank teller or secretary.


What Monty Python Character are you?


Running away? You yellow . . .
Take this quiz!







Quizilla |
Join

| Make A Quiz | More Quizzes | Grab Code
(If you were not a Halo you would be a Fedora.)

I am a Fedora.


The hat of the adventurous, I am spontaneous and active, perhaps sometimes a little foolishly. Regardless, I always come out alright. What Sort of Hat Are You?

---------------


Which File Extension are You?
------------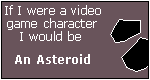 I am an Asteroid.


I am a drifter. I go where life leads, which makes me usually a very calm and content sort of person. That or thoroughly apathetic. Usually I keep on doing whatever I'm doing, and it takes something special to make me change my mind. What Video Game Character Are You?

Recent front page messages:
Best answers to questions: