Profile for fannycradock:
Profile Info:
Hello, my name isn't really Fanny Cradock. I am
25
26
27
28, and live in a
scabby
quite nice flat in
Brixton
Cricklewood. I've been a lurker for a million years, and have finally summoned up the energy to join this lovely place. Be nice, or I'll wipe my snot on you.
I have
a rubbish
an alright day job, but in my own time like to draw, paint, admire robots and say vulgar things. I also play the ukelele quite badly. I like using Paint as I find I can relate to it, with it being a really quite simple tool, and a bit rubbish.
Have a butchers at mine and two boys website,
here
for drawings and stuff.
The Lovely Peter Serafinowicz also likes my site, so it would be rude not to mention his:
clicky
WE'VE ONLY GONE AND MADE THE BLIMMIN' NEWSLETTER
(Crap tips)
Facts:
1. I have a quite unhealthy obsession with Robots.
2. I am a vegetarian, but will eat exotic meat(Moose, badger) if available.
3. I look unnervingly like Myra Hindley.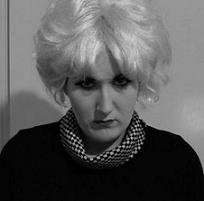 For my 2000th post I tap danced with a nork out. Ttssattsr drew it: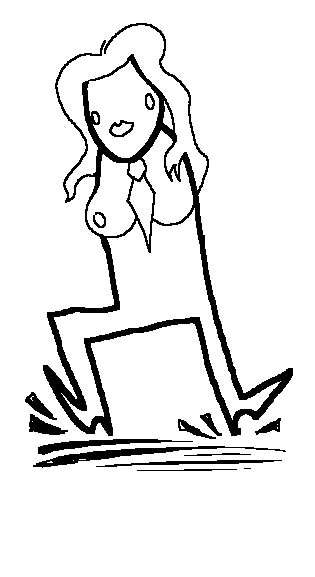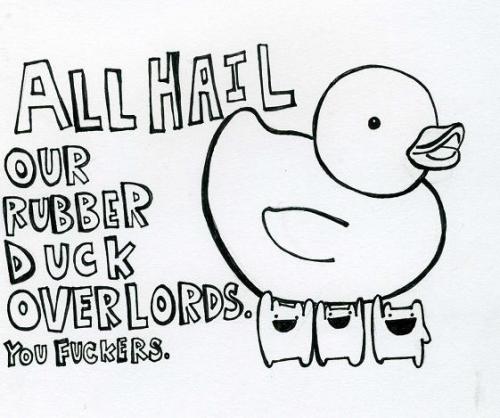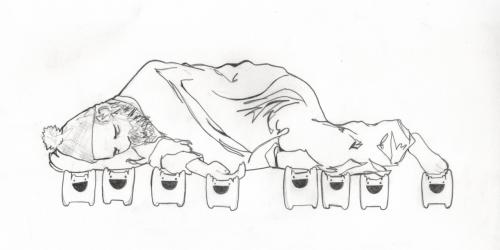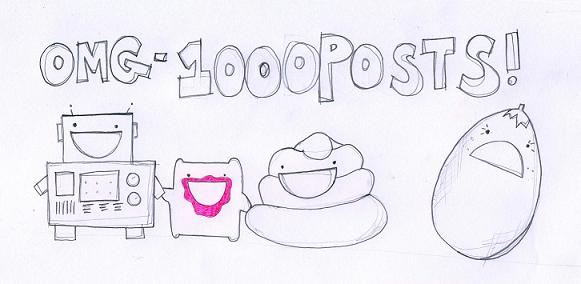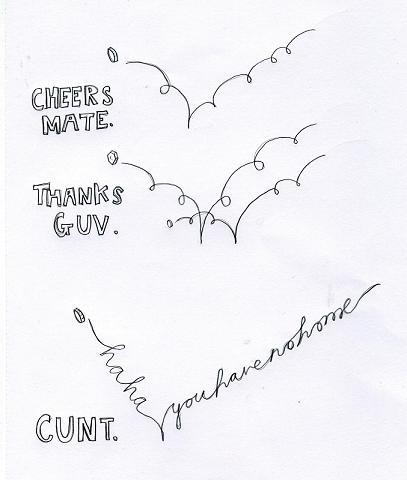 I ARE ON SKIN! (Not mine, sadly)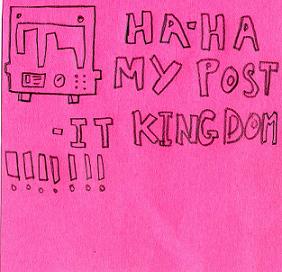 My favourite Image Challenges: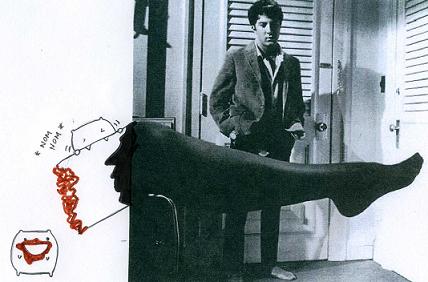 TTSSATTSR made me a CAT. YES.
I MADE HIM A CAT OF WHICH I AM VEH PROUD. HA.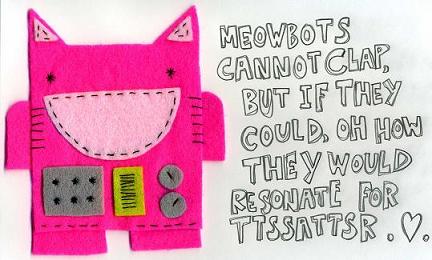 Made by HappyToast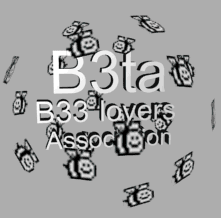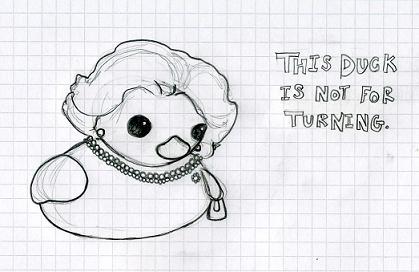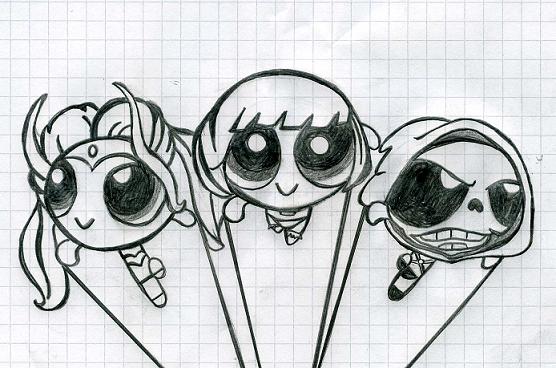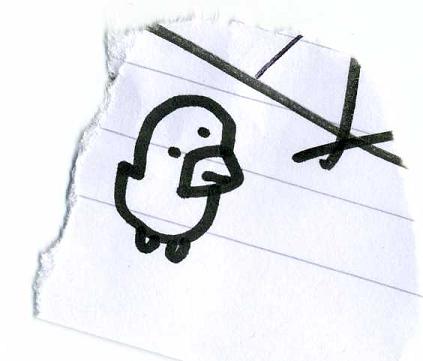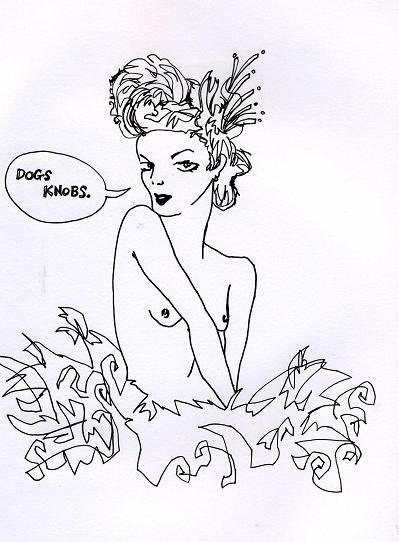 18
Created by OnePlusYou -
Free Dating Sites
Free Counters
Recent front page messages:
none
Best answers to questions:
» Political Correctness Gone Mad
SGT
People forget that political correctness itself used to be called 'spastic gay talk'.
(Courtesy of Frankie Boyle, I thank you)
(Thu 22nd Nov 2007, 15:19,
More
)
» Buses
WE'VE GONE BACK IN CUNTING TIME
After a nights revelry at a friend's party in the arse end of London, my friend and I started the epic journey back to New Cross, which involved getting to Victoria and getting a bendy bus home. The sun is coming up and we're a little worse for wear, but we somehow manage to get on the right bus, and collapse on two seats facing an empty row. After about ten seconds we both promptly pass out.
The bus heads out from the station and makes its way through the city, over the river, past our lovely beds and to the end destination (Deptford, as you ask). We sleep throughout. Oblivious to us the bus changes drivers and starts back on its journey to Victoria.
I eventually wake from my slumber, wipe the drool from my face and rub my kohl-caked eyes and wonder why we are almost back where we started, but going in the wrong direction. I try to be eloquent in the matter but I am drunk and confused and instead start violently prodding my mate and screaming "BEC! BEC! WE'VE GONE BACK IN CUNTING TIME GET OFF THE FUCKING BUS OH SHIT". She wakes up screaming, together we scream and swear and jump up and ding the fucking bell and stumble about in our groggy states, both of us looking like mad-haired, raped-and-dragged-through-a-bush-drag-queen-banshees. It is then that I look at the once empty seats in front of me.
It is a Sunday, and there sitting opposite us is the perfect family unit dressed for church, in their Sunday best. They are wearing colour-coordinated outfits for fuck's sake.
I'll never forget the look in the children's terrified eyes.
(Thu 25th Jun 2009, 15:58,
More
)
» Accidental animal cruelty
Frogs Leg.
My garden when I was little had a pond, and every year we'd get tons of frog spawn. This obviously turned into tadpoles, then weird little tadpoles with legs, and then they'd evolve into these tiny little teenage frogs the size of a thumb nail. Being the tom boy I was I had a whale of a time playing with these magic little frogs, until..
One day I was holding a little frog in my hand, it went to jump away and I tried to catch it. I grabbed it's little leg.. and it came off. I'll never forget the horror of seeing a tiny frog limb in my hand, and the little frog landing in the pond and bobbing away.. God knows how but the frog survived, and grew to be a freaky one legged frog that was crap at swimming.
Length? teeny weeny.
(Thu 6th Dec 2007, 14:05,
More
)