Profile for mr ginglymus:
a member for 13 years, 4 months and 18 days
has posted 417 messages on the main board
(of which 1 have appeared on the front page)
has posted 0 messages on the talk board
has posted 1 messages on the links board
(including 1 links)
has posted 3 stories and 0 replies on question of the week
They liked 220 pictures, 19 links, 0 talk posts, and 2 qotw answers. [RSS feed]
Profile Info:
VOTE FOR TRAIN
I'm an engineering undergrad at Cambridge. I'll fill the rest in when I'm bored enough :)
Apparantly I make pixel animations and scenes and stuff.
THINGS WHICH HAVE BEEN IN MY PANCE:
Space Shuttle
Longcat
A fish
Sausage making machine
That worm thing from Star Wars
Fighter jet
A giggley mouse
A fire
A fountain
Have a random image:
Recent front page messages:
Seems to be the way to go...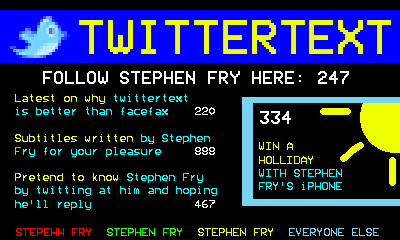 edit: *glee*!
(Wed 29th Jul 2009, 23:37,
More
)
Best answers to questions:
» School Projects
Contour maps
Year...9 or something. Had to make a 3d contour map model (built up layers, different colours etc)...sounded a bit pointless, so I just found my brother's one, made four years earlier, and handed that in instead. Got half a mark less, and that from the same teacher too! Talk about inconsistent marking.
(Thu 13th Aug 2009, 14:17,
More
)