Home » Image Challenge » New Theme Parks
[Suggest a different challenge]

New Theme Parks
(This challenge is now closed)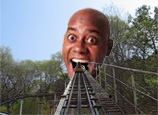 Everyone loves a theme park, even the North Koreans. So let's build some new theme parks and invent the rides contained therein, using just our imaginations.
( , Wed 16 May 2007, 19:31)

Enjoy all the rides.
And the 2k over the FAQ guidelines... sorry.
( , Wed 16 May 2007, 21:12,
More
)

Things move fast in Hazard County...
( , Wed 16 May 2007, 20:22,
More
)