Home » links » Link 1573259 | Random

Our very own b3tan Spelling Maistakes Costs Lives needs our help
Hopefully Darren will post something here that is more eloquent, but generally, while we're all arguing the toss about trivialities, he's out there giving it some, especially to sHell. His funding has fallen through for his latest jape so is in need of some direct help using the link above. If you don't want to donate, the link will also take you to where you can pre-order some of his stuff and the money goes toward the project too:

"My plan is to install an anti-Shell greenwashing showroom inside a single-decker biodiesel-powered bus and bring it to COP26, as well as future protests, festivals and to park outside Shell marketing events/corporate headquarters.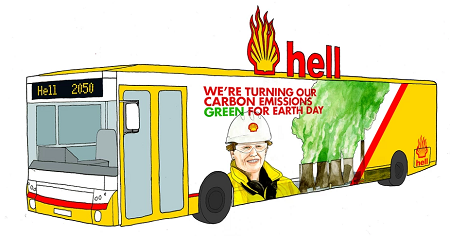 I've already started work on the project but due to one major funding source event being cancelled I now need your help to make it happen.

My name is Darren Cullen, I'm an artist based in south east London where I run the Museum of Neoliberalism and my hobbies include pissing off Shell.

Due to previous legal threats from Shell. I am running the crowdfunder on my own website to avoid a Kickstarter being cancelled by Shell's lawyers at the last minute, it also means I will have access to the funds immediately since there is not much time until COP26. I understand this is a bit unusual and might not inspire total confidence! But you can see the previous successful crowdfunding campaigns I've run here.
www.kickstarter.com/projects/darrencullen/dont-join-the-army-anti-military-recruitment-comic
www.kickstarter.com/projects/darrencullen/a-horrid-little-newspaper-satirical-scale-model-da
www.kickstarter.com/projects/darrencullen/jigsaw-jigsaw
www.indiegogo.com/projects/museum-of-neoliberalism/#/
Any backer rewards you pre-order, you will receive in November 2021.

The bus will be based on my 2017 anti-Shell installation, but massively expanded with a dozen or more new satirical, climate-apocalypse and greenwashing related artworks."

( , Fri 10 Sep 2021, 15:29,
Share
,
Reply
)

He's a good artist with some serious integrity
tl:dr Give him the fucking money now.

( , Fri 10 Sep 2021, 16:54,
Share
,
Reply
)