Starting something you couldn't finish
Finnbar says: I used to know a guy who tattooed LOVE across his left knuckles, but didn't tattoo HATE on the other knuckles because he was right-handed and realised he couldn't finish. Ever run out of skills or inspiration halfway through a job?
( , Thu 24 Jun 2010, 12:32)
« Go Back

Airfix helicopter
At the age of 16, I started building an Airfix Mi-24 Hind helicopter, with the intention of entering it into a sad-boys' model competition organised by the Air Cadets (Top prize: another, slightly larger, slightly more complicated Airfix kit)
It was a little bit harder than I anticipated. Quite a lot harder.
My enthusiasm for the project soon ran out, so I carefully packed it into a biscuit tin, taking it out every now and then for a dabble.
In fact, 28 years and three house moves later, this is what it looks like: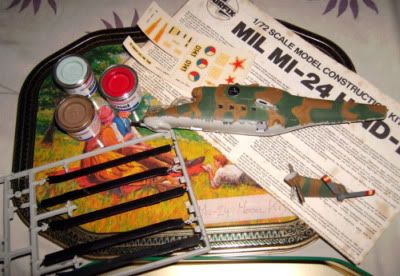 I'll finish the fucker if it kills me. Probably.
(The full nine yards on my doomed quest
HERE
)
( , Thu 24 Jun 2010, 12:55,
6 replies
)

Hinds are AWESOME!!
I feel your pain too. I hardly ever finished any of these things when I used to buy them as a kid. Other than the massive Vulcan bomber I had hung from my ceiling.
God I was a geeky kid.
( , Thu 24 Jun 2010, 13:03,
closed
)

When I did finish these kits
My brother and I used them for "realistic" dogfights, which ended up with fireworks being shoved in the gubbins...
( , Thu 24 Jun 2010, 13:04,
closed
)

I had a V-bomber slung from my ceiling, too.
A Victor, in my case. I wanted a Vulcan, though...
( , Thu 24 Jun 2010, 13:06,
closed
)

I really wanted the Vulcan
Luckily my dad did too, so it was fairly easy to nag him into getting it for me.
The only other one I took a lot of pride in was a 1:48 Tornado, complete with working swing-wing,
I also used to 'fly' my models around my room. Main problem, I found, was that the transfers therefore came off from repeated handling and needed to be re-applied.
( , Thu 24 Jun 2010, 13:14,
closed
)

I hate that...
I clicked the link, I saw the photo and before I read anything I thought "Judging by the body side it must be a Hind".
Now this is why my missus thinks I am a total sadcase.!
( , Thu 24 Jun 2010, 14:43,
closed
)

Just explain that it's from
your years in Afghanistan fighting the Russians with the mujahadeen.
( , Thu 24 Jun 2010, 14:58,
closed
)
« Go Back