Profile for Benny on the Loose;:
Profile Info:
Err, well...hmmmm. What can I tell you about me?
Although you're gay, I'm not.
Although I live in the Dirty North, I'm a splendid Southerner. Yes, that's right. Splendid. Not gay.
I like beer & Ms Benny. That's right, Ms Benny. Not Mr Benny, you queen.
That's it. Here's me looking like I've just sat on a cock. Although I haven't, as I'm not ghey.
And here is the lovely Ms Benny. Notice the lack of leather & handle bar moustache. That's right, she is actually a SHE!
And here is me, my Brother & my wife courtesy of Evil Lu (also, not gay despite living in Briton)
Mykeyboy did this
after a drunken suggestion at the Reading bash... (he is Gay)
Ladybirds ?
Donkeh!
Awwww....
Hurrah!!!
You are a
GRAMMAR GOD
!
If your mission in life is not already to
preserve the English tongue, it should be.
Congratulations and thank you!
How grammatically sound are you?
brought to you by
Quizilla
WOW! YOU ARE A TRUE B3TAN!!! COME IN! JOIN THE
PARTY!
Are You A Natural B3tan
brought to you by
Quizilla
Which Horrible Affliction are you?
A Rum and Monkey disease.
The Dante's Inferno Test has banished you to the Second Level of Hell!
Here is how you matched up against all the levels:
Take the Dante's Inferno Test
Doctor Unheimlich has diagnosed me with
Benny on the looseitis
Cause:
viral
Symptoms:
tunnel vision, scaly skin, shouting, hand tremors
Cure:
prayer
Are You Damned?
Brought to you by Rum and Monkey

I am Chocolate Flavoured.


I am sweet and a little bit naughty. I am one of the few clinically proven aphrodisiacs. Sometimes I can seem a little hard, but show warmth and I soon melt. What Flavour Are You?

Which Historical Lunatic Are You?
From the fecund loins of Rum and Monkey.
Which Evil Criminal are You?
A Rum and Monkey crime.

:: how jedi are you? ::




Which ABBA member are you ?

This pointless quiz was made by TMO


Which File Extension are You?
My Purity Report - Compared to Others
Category

| | | |
| --- | --- | --- |
| - Lower - - Low - | --- Average --- | - High - - Higher - |

Sexual:
Homosexual:
Nerdiness:
Healthiness:
Financial:
Criminal:
Drug Use:
Grossness:
Report By Wx Plotter. Click Here to get your purity scores!





Which quiz are you ?

This pointless quiz was made by TMO
Your Birthdate: December 7


Born on the 7th day of month gives you a tendency to be something of a perfectionist and makes you more individualistic in many ways.

Your mind is good at deep mental analysis and complicated reasoning.

You are very psychic and sensitive, and you should usually follow your hunches.



You may not take orders too well, so you may want to work alone or in a situation where you can be the boss.

This birthday gives a tendency to be somewhat self-centered and a little stubborn.

Your results:
You are Iron Man
| | | |
| --- | --- | --- |
| Iron Man | --- | 80% |
| Green Lantern | --- | 60% |
| Spider-Man | --- | 55% |
| Superman | --- | 55% |
| Supergirl | --- | 48% |
| The Flash | --- | 45% |
| Hulk | --- | 45% |
| Robin | --- | 40% |
| Wonder Woman | --- | 38% |
| Catwoman | --- | 35% |
| Batman | --- | 30% |



Inventor. Businessman. Genius.





Click here to take the Superhero Personality Test

Which Family Guy Character are You?


You are Lois, you have the makings of a model and are admired by the ENTIRE neighborhood.
Take this quiz!







Quizilla |
Join

| Make A Quiz | More Quizzes | Grab Code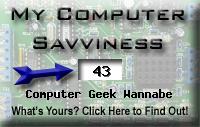 What Kind of Drunk Are You?
Brought to you by Rum and Monkey
Recent front page messages:


none

Best answers to questions:





read all their answers]