Profile for Joe Scaramanga:
Profile Info:
I ain't round here much at the moment cos I'm doing this...
Join me as I attempt to review all 80-odd NOW albums before the 30th anniversary of the first release, in November.
Ha, fat chance.
Welcome to The Crazy World Of Joe Scaramanga.
It's not quite the Crazy World of Arthur Brown, but then, what is?
I'm an honest Somerset lad trying, and failing, to make in Londinium.
I currently spend my days banging my head against my desk whilst trying to deal with the numpties I happen to have to be a slave to, and who earn far more than I do for doing very little. But then I'm sure you do the same.
My freetime is spent drinking, smoking, watching more bad movies than is strictly healthy, trawling around for obscure library music and worrying about my flat falling down.
I CAN HAZ CATS!
Randall...
Hopkirk...
Anyhoo...
joescaramanga.co.uk
LIVES!!!
For what it's worth, browse the complete adventures of Dan's Dares (so far!), a selection of the best/worst movie posters I've done, and the crap videos I've made.

My poorly maintained, and infrequently updated thingamawotsit.
It started as a place to vent my frustrations at the world, but as now just become a peek into the world of 'Joe's Video Collection'.
I'm emailable too:
contact at joescaramanga.co.uk
...
Look what the Fiend did for me!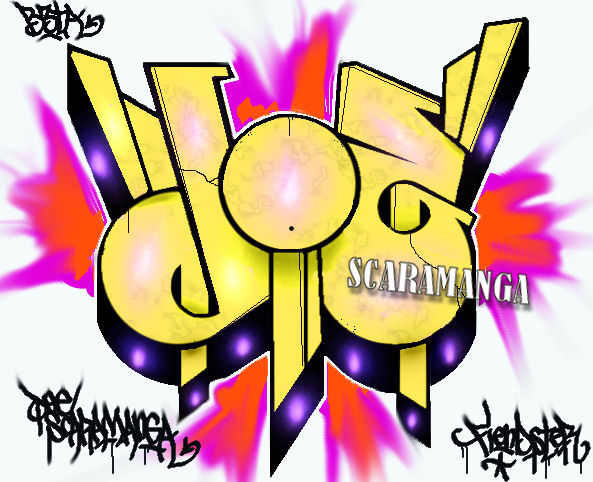 BADGES!
courtesy of me
courtesy of Mr Sanity with whom I share a hometown it seems...
courtesy of evilscary...
I was there MAN!!!
Cheers c_kick
Sonic Broom did this, he's ace:

Joe Scaramanga - O2 Wireless Festival - 16/06/07
Scaramanga the man or Scaramanga the legend? That's the question on everyone's lips as the festival draws to a close. You could cut the atmosphere with a knife in Hyde Park, and after daft Punk have done their silly robot thing, on comes Scaramanga.
The light show kicks off, nearly blinding the audience and causing Prodigy 69 to complain bitterly - but for those who still have retinas remaining, the shap of a lone JS taking the stage cause a frenzy of excitement.
Opening with "You'll Never Need A Merkin If You Don't Shave First" the overdriven ukelele of Scaramanga lifts the clouds from the skies and lets the moon beam down on his congregation. As one hit begets another, it's not long before the entire crowd is singing along, lighters in the air.
An ill-judged comment about Hitler aside, this is a spectacular night that will live long in the memory, and closer "Shmerg Shmerg Shmerg Song" leaves the crowd eager for more. Top Drawer work.
4.5/5
Recent front page messages:











Best answers to questions:





read all their answers]