Profile for coder.keitaro:
Profile Info:
wooo!
first post
second post
All my contributions to B3ta
as a slideshow!
[This is not just an ego thing. I t is built into Flickr! Flickr is just too damn cool.]
except the twunts have started to block the posting of animated gifs!
The will be stuffed up warrens-anus, and will therefore be deleted after a few days. sorry.
If you are bored you can check out my rabid ranting
here
I am totally amazed at how a certain person can make fluffy things seem sexy!
so here is a badge
I have become so annoyed with people slagging off others about the FAQ when they have clearly not read it themselves that I have come up with an award for them
They will get it in a post directly after theirs with the title "YOU HAVE WON!"
--------------------
You Should Learn Japanese


You're cutting edge, and you are ready to delve into wacky Japanese culture.

From Engrish to eating contests, you're born to be a crazy gaijin. Saiko!

Mean lil fellow, arn't you?
What Monty Python Character are you?
brought to you by
Quizilla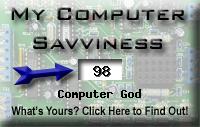 The Dante's Inferno Test has sent you to the First Level of Hell - Limbo!
Here is how you matched up against all the levels:
Take the Dante's Divine Comedy Inferno Test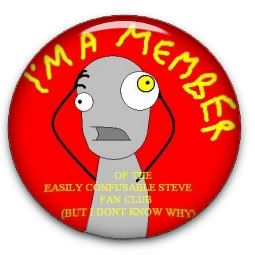 Recent front page messages:


none

Best answers to questions:





read all their answers]