Eccentrics
We all know someone who's a little bit strange - Mum's UFO abduction secret, or the mad Uncle who isn't allowed within 400 yards of Noel Edmonds.
Tell us about your family eccentrics, or just those you've met but don't think you're related to.
(Suggested by sugar_tits)
( , Thu 30 Oct 2008, 19:08)
« Go Back

TPFKA MattDP reminds me
of my days working in a pub in Dover when I too got the reputation for being, as my boss put it, a 'mongol magnet'. You could guarantee that when I was working a shift some weird bum/real ale nutter/escaped lunatic would come in and generally baffle us with their strange tales/odours.
This was truly confirmed one day when this sweaty little guy with a wild, unkempt beard showed up at the bar and asked me for a lemonade. My co-workers were already starting to pull faces at me from behind him when he sighed and started to talk to me in his thick french accent.
Crazy bearded Frenchman: 'Tired'
Me: 'Why's that then?'
CBF: 'I walk here'
Me: 'Oh right, how far?'
CBF: 'From France, costa-costa-costa (while saying this he moved two of his fingers to indicate walking) around Spain, Portugal, Spain again. Then England, costa-costa-costa, Wales, Ireland, Scotland, England then I come here!'
Me: 'Riiight'
Turns out he wasn't lying. He had been on the road for two years and was aiming to walk round the coastlines of Europe (costa-costa-costa) for World peace! And if that wasn't eccentric enough he had taken his bed of nails along for the ride! We didn't believe him until he took us outside and showed us. We asked him about his travels and he produced a scrapbook full of newspaper clipping of him in various places performing with his bed of nails. I meantioned I was from Glasgow so he rooted through his scrapbook until he found a picture of him out on Sauchiehall Street sandwiched in his bed of nails with one of Glasgow's MSPs standing on top of it!
So in exchange for dinner and lodgings he agreed to do a performance that night in the pub which was fantastic. I did take loads of pictures but it was before the digital revolution so I can't post one. I did find this on the net though it was taken during his time in Ireland: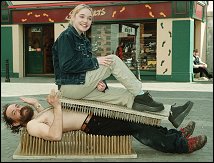 I can't remember his name and I never heard if he finished his epic quest. He told us he planned to finish on the Champs Elysees about five years after I met him so I presume he's done by now. Pity about the whole lack of World peace thing. We met him in late September 2001 when the outlook was bleak. He was determined not to let it get him down though. Don't think I can say I've met anyone more eccentric.
Length? Nothing compared to the combined coastlines of Europe!
( , Mon 3 Nov 2008, 13:05,
4 replies
)

Writing this made me curious
A quick google search has shed some light on this. His name is Joel Buton and he still walks the Earth preaching peace. From the many foreign articles I found I see he's been to Norway, Latvia and was in Slovenia this year. I'm guessing there were many places inbetween.
I reiterate: what a guy!
( , Mon 3 Nov 2008, 17:13,
closed
)

mong magnet
was the nickname my mother gave me after introducing her to yet another weird boyfriend.
( , Mon 3 Nov 2008, 20:29,
closed
)
« Go Back