My Collection
Do you have display cabinets full of stuff? With it all neatly labelled, cross-referenced and entered into a database. Have you been to a convention? Do other collectors look up to you in awe?
I thought I was above this one. I'm not
that
autistically geeky that I have a Collection with a capital C. But no, I remembered I'm hoarding away every version of "Inside Macintosh" ever published.
What do you collect? And why? I mean, what makes you do it?
( , Thu 11 Jan 2007, 16:52)
« Go Back

I don't Collect them, i Just can't throw them away...
I have a lot of (low end) specific equipment. This means if I want them to work together I have to use lots of cables.
Like most people I (used to) have a large box or drawer into which I would shove all and any cables into it. It didn't matter if they were coiled, or even individually vacuum packed, because you only had to close your eyes for the time it takes a Chav to purchase a Burberry hat before they become one homogonous lump of frustration. You know how you Gran used to love disentangling wool and stuff? That's because she was insane, if she hadn't have done that she would have been the next Hitler.
There's no way I'm going to end up with a bobble hat, breasts that warm my knees and a compulsive tendency to invade Poland because a few cables. So, sacrificing a wardrobe given over to bobble hats; I used the clothes rails to hang cables.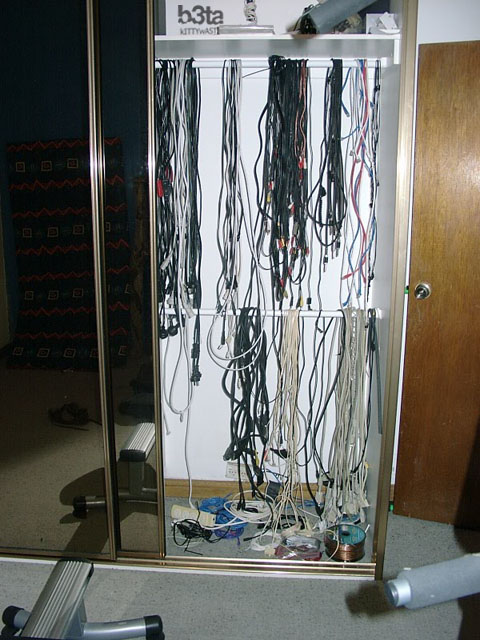 They are in order of function. For example, top right you've got mobile phone cables and Ethernet data cables (organised by Cat5, Cat5e and Cat6), bottom right are printer, serial and parallel cables). Top left are power cords, organised by socket terminator (IDC, Figure8 and Compaqfuckinganoyyinglywierdlaptoppowersupply) and then subcategorised into US, UK and Australian Mains plugs.
What me? Anal? naaaaaaaa
( , Fri 12 Jan 2007, 23:49,
Reply
)
« Go Back