Pet Stories
When one of my cats was younger and a
lot
fatter, he came bowling in from the garden with an almighty crash. Looking slightly stunned, he'd arrived into the kitchen having ripped the cat flap from the door and was still wearing it as a cat-tutu. Did I mention he was quite fat?
In honour of Jake, a well loved cat, who died on Wednesday, tell us your pet stories and cheer us up.
( , Fri 8 Jun 2007, 9:15)
« Go Back

I assure you, it was completely innocent
I took some photos today while my boyfriend played with our bird, and when we were looking through them, we noticed that a couple of them looked a bit raunchy...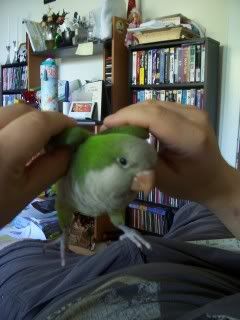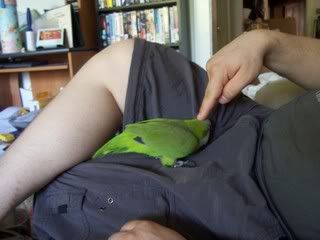 I promise, he doesn't really force birds to give him head or grope his erections while he dangles them by their wings... Actually, the bird's foot isn't anywhere near him... Ah, the magic of camera angles :) He insists that I also mention that it was only his shorts tenting... It's still pretty funny, though.
( , Sun 10 Jun 2007, 1:58,
Reply
)
« Go Back