Conned
swiftyisNOTevil writes, "I have recently become obsessed with the BBC Three show 'The Real Hustle' - personally, I think of it as a 'How To' show for aspiring con artists."
Have you carried out a successful con? Perhaps you hustled a few quid off a stranger, or defrauded a multi-national company. Or have you been taken for the wide-eyed, naive rube that you are?
( , Thu 18 Oct 2007, 13:02)
« Go Back

Hey! Leyxia's the xkcd black hat guy!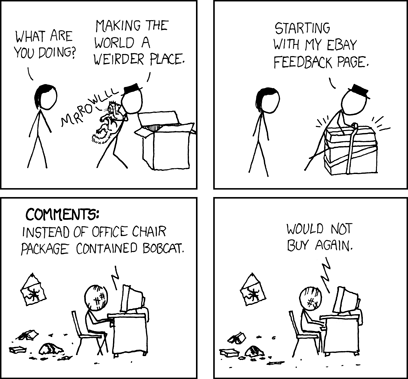 ( , Wed 24 Oct 2007, 18:39,
9 replies
)

This is very amusing...
....but could you try posting something that ISN'T just cut and pasted from someone else's webiste?
Unless of course that XKCD IS your website.
( , Wed 24 Oct 2007, 19:23,
closed
)

Ummmm...
...you might try looking back through some of the older QOTWs. You may see my name a few times on the Best Of pages.
This is the end of the week, anything-goes chunk of the QOTW.
( , Wed 24 Oct 2007, 19:31,
closed
)

Nah, the guy in the black cat is somewhat amusing
and not an escaped abortion, like leyxia
( , Wed 24 Oct 2007, 21:02,
closed
)

XKCD
The guy at xkcd doesn't mind people posting his work on other pages, as long as he is credited (which TRL does admirably, every time)
( , Wed 24 Oct 2007, 21:22,
closed
)

Now that I think about it...
Mr. Pink
- Don't all abortions escape, technically?
( , Thu 25 Oct 2007, 3:11,
closed
)
« Go Back