Dressing Up
Rotating Disembodied Head asks: Have you spent 10,000 man hours recreating a costume of a minor character from Star Trek to wear at conventions or merely turned up at a party buck-naked and sporting a mouthful of custard which you spit out on demand and declare yourself to be a zit? Tales of the old dressing up box, fancy dress parties and stealing panties off next door's line. Said too much.
( , Thu 25 Oct 2012, 12:37)
« Go Back

A few of us used to do an annual Christmas panto
in the village hall for the old folk. This particular year the vote was for Cinderella and it was my turn to write the script. I'd always wanted to play Long John Silver so naturally I wrote myself in. Here is a scene between LJS and one of the Ugly Sisters. After the performance we upheld the ancient tradition of going into town in costume and getting pissed. Ugly Sister pulled, I didn't.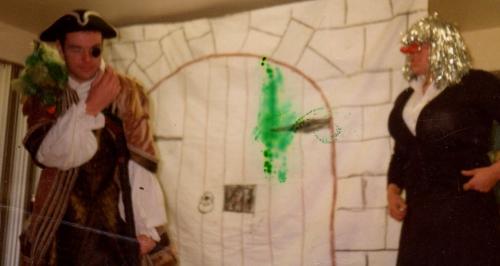 Click for bigger (100 kb)
PS. Excuse the wolf vomit.
( , Wed 31 Oct 2012, 17:19,
Reply
)
« Go Back